RHOBH: Lisa Rinna embarrassed herself, screamed "gaslighting"
The Real Housewives of Beverly Hills Reunion part 1 started out with Lisa Rinna truly embarrassing herself and shouting words she doesn't understand.
During the first part of The Real Housewives of Beverly Hills reunion, the women got settled into their virtual environments and got right to business. Lisa Rinna wasted no time coming for her old friend Denise Richards. If we take nothing else from part one, know that it is not recommended to be Rinna's friend.
The only people safe from her insane yelling were her friends: Kyle Richards, Dorit Kemsley, Teddi Mellencamp, and Erika Jayne. Rinna literally screamed the term "gaslighting" 10 times at no one in particular. If anyone here is gaslighting anyone, it is Rinna gaslighting Denise. Imagine your friend of two decades screaming at you on national television just because you think it makes you interesting?
Rinna insinuated that the fans of the show were coming for them unnecessarily as if she wasn't a major part of a plan to take down Denise. The fans have opinions on what she actually did to her friend. The fans coined the term "RHOBH mean girls" because they were being mean girls.
But at the reunion, Rinna really outdid herself on being an embarrassing older woman. She obviously thinks Denise is "gaslighting" the other girls over the situation. In reality, Rinna screaming "gaslighting" is doing the opposite. It makes Denise look like she was right all along and dealing with a bunch of crazy people.
Perhaps if everyone who is watching thinks you are wrong, it is a good time to examine your behavior to see if there is something wrong. Rinna is misusing the word gaslighting like she misused the hot phrase "Karen" back at the start of the season.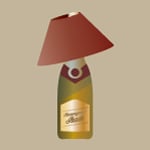 Want your voice heard? Join the Champagne And Shade team!
Write for us!
She sounds like an angry old parrot just repeating the words of her owner. If Rinna took a moment to understand the term gaslighting, perhaps she might come to understand why people would think she was doing that.
According to Wikipedia, gaslighting means to "manipulate (someone) by psychological means into questioning their own sanity." Denise is not doing that to Rinna and the other women. On top of that, throwing around a term that is a serious kind of abuse is really disrespectful for those that have been affected by it.
It is time for Rinna to step back and mull over some of the criticisms being thrown her way. Her children would benefit from it, and so would she. This isn't fun to watch anymore, and her endless narcissism is too toxic for television.
The Real Housewives of Beverly Hills reunion part 2 airs Wednesday, September 9.