Is Drake going after Megan Thee Stallion the beginning of the end?
For over a decade, Drake has been a music icon. I don't throw that word around lightly, either — the 36-year-old rapper has created some of the best music over the past ten years. He's been consistent, creative, and perhaps most importantly, pretty drama-free.
That last one changed fast.
If you type Drake's name in anywhere, the only thing you'll see right now is in reference to a diss thrown toward Megan Thee Stallion on "Her Loss," an album dropped by Drake and 21 Savage. The track "Circo Loco" has lyrics that are not very nice.
Drake dissed Megan Thee Stallion on his new album for no clear reason
For reference, Megan Thee Stallion was shot in the foot by Tory Lanez in 2020. There wasn't much of a controversy surrounding it, as the facts were plain and simple. It was a thing that happened. Lanez was charged and there will be a trial beginning later this month.
Apparently, Drake doesn't agree. Here's what he said about Megan in "Circo Loco."
"This bitch lie 'bout getting shots, but she still a stallion.
She don't even get the joke, but she still smiling."
The lyrics are clearly in reference to her being shot a couple of years back, though some are theorizing that the pluralization of "shots" could point to rumors of "cosmetic injections," according to Variety.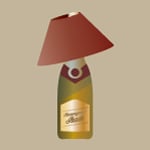 Want your voice heard? Join the Champagne And Shade team!
Write for us!
Megan immediately clapped back, making this one of the worst moves of Drake's career
First of all… Drake, my guy — this is a TERRIBLE move by you. It's 2022. If you go after Megan Thee Stallion without a good reason, you're going to get dragged on virtually every platform imaginable.
"Any publicity is good publicity" only goes so far. Megan is one of the most widely-appreciated people in entertainment right now.
Megan retaliated with a series of tweets, including this one.
Here's what some other people said about the situation.
I haven't listened to the album from start to finish, but it seems like it was well-liked up until the lyric about Megan. This is a negative move for drake — he just alienated a large portion of his audience.
Tough scene.