Kim Kardashian spotlights the 2022 Met Gala in Marilyn Monroe style
Eat your heart out Kanye West. While all the Kardashians-Jenners turned it out in style at the 2022 Met Gala, it was Kim Kardashian turning heads on fashion's biggest night giving homage to the late Marilyn Monroe and owning it.
With this year's theme being "In American: An Anthology of Fashion," Kim and her sisters used the opportunity to shine in the spotlight, something they certainly do best.
On the arms actor Pete Davidson, Kardashian arrived on the Red Carpet in Monroe's crystal "Happy Birthday Mr. President" iconic gown. Sporting blond hair and dazzling diamond earrings, the former Mrs. West and reality TV star didn't disappoint as she posed for the flashes and sparkled into the night.
Kim Kardashian simple sparkles at the 2022 Met Gala
As it was quite the opposite from the fashion statement, she made just months prior at the Metropolitan Museum of Art as she was dressed from head to toe in all black, Kardashian teased we were in for a treat, and she lived up to the hype.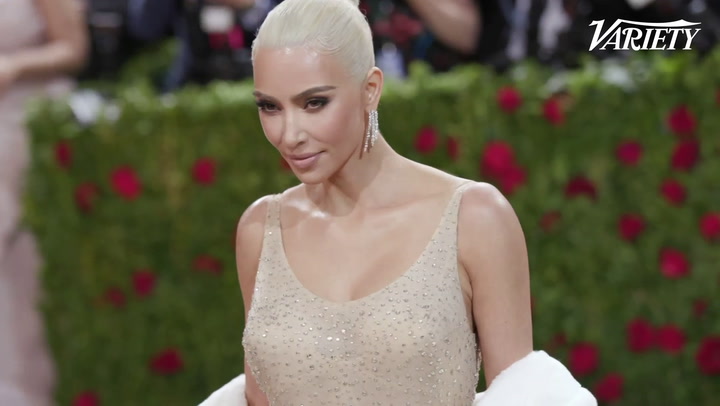 In an interview with Voque , Kim Kardashian said she wanted to find the most American theme she would think of for the event, which in her mind was the inspiration of Marilyn Monroe in giving tribute to one of the most memorable pop culture moments.
"The idea really came to me after the gala in September last year. I thought to myself, 'What would I have done for the American theme if it had not been the Balenciaga look? What's the most American thing you can think of?' And that's Marilyn Monroe," Kim told the fashion magazine. "For me the most Marilyn Monroe moment is when she sang 'Happy Birthday,' to JFK, it was that look."
When it comes to Met Gala looks throughout the years, Kim has never disappointed when it comes to glamour and making statements. From Thierry Mugler's custom gold mini dress in 2019 to the Versace dazzled gold look in 2018, this Kardashian sister knows how to turn heads whether you like her or not.
Speaking of sisters, Kim Kardashian wasn't the only one making a statement. Mother Kris Jenner turned back the hands of time with a Jackie Kennedy look. Kholè Kardashian made her Met Gala debut sporting her own Gold look while Kourtney arrived on the arms of fiancé Travis Barker wearing matching skirts.
What was behind that look?
"We're in Thom Browne and I'm basically like a deconstructed version of [Travis's] outfit," Kourtney revealed to La La Anthony on Vogue's red-carpet livestream.
Younger sister Kendall Jenner made her own statement, arriving solo wearing a black full-bodied skirt with a long train and a sheer, tank top under a fishnet crop top. Twin sister Kylie Jenner brought the bride energy to the night dressed in white. Jenner wore a fitted corset top featuring sheer paneling and a massive skirt. But the highlight of her outfit in this guy's opinion was the backwards white baseball cap she wore instead of the traditional veil.
In all, the reality TV's first family took the night with Kim Kardashian of course leading the way.