Kim Kardashian publicly defends children from horrendous Ye question
Kim Kardashian absolutely bossed the situation…
Kim Kardashian is one of the biggest media personalities and businesswomen of the last decade. But the title she would hold close to her heart is being a great example of motherhood. Even despite her immense fame and profile, she is a walking example of how kids ALWAYS come first.
2022 was not an easy year for Kim. She went through a very public divorce with her ex-husband Kanye West, who legally changed his name to Ye. Since the divorce, Ye has been incredibly outspoken in the media, crying that he wants the best for his children.
But, the truth is, when you want the best for your children, you couldn't wish for a better mother to them than Kim Kardashian.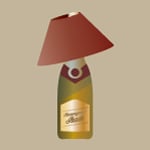 Want your voice heard? Join the Champagne And Shade team!
Write for us!
Yesterday, it was revealed that Kim had to use stern force to protect her children from hearing paparazzi hear bad words about their father. Despite the divorce, Kim asked the paparazzi not to ask her such questions in front of her children.
The question asked by the reporter involved hearing Kim's thoughts on her ex-husband's alleged battery claims. Ye was filmed taking the phone from a woman who filmed him in public, throwing the phone across the street.
It's not the first time paparazzi has crossed the line and it won't be the last either. To even ask the question when Kim is no longer married to Ye is one thing, but to ask in front of their children is just not right.
Kim keeps a stiff upper lip as she doesn't want to bring bad energy onto her children. BuzzFeed reported that even in the midst of Ye's outrageous antisemitism, Kim would control her children's exposure to such comments and negative viewing of their father.
To do this, Kim became close friends with teachers of her children, so she could monitor what they were exposed to in regard to their father. Also, at home, Kim maintains strict control over television.