Are Charli D'Amelio and Landon Barker still dating?
Being in a relationship as a teenager is confusing, but becomes even more confusing when millions of fans are watching your every move. That seems to be the case with Charli D'Amelio and Landon Barker. It seems like every other week there are rumors about an alleged breakup.
This type of theorizing from fans and media has driven some celebrities to keep their relationships completely offline, as Dixie D'Amelio and her ex-boyfriend, Noah Beck, decided to do. Unlike her sister, Charli's relationship with Landon has been quite public. The pair often post together on social media, are shot by the paparazzi, and even appear together on Hulu's The D'Amelio Show.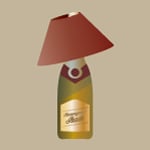 Want your voice heard? Join the Champagne And Shade team!
Write for us!
This time, rumors have started due to Charli attending Seth MacFarlane's Christmas party. She was photographed near another boy, causing an uproar on social media. The paparazzi pictures were posted all over celebrity gossip pages on both Instagram and TikTok, gaining so much traction that Charli spoke on the matter in an Instagram comment. She wrote "I'm just standing next to someone calm down" on Instagram user @teatoktalk's post.
But some think the origin of the photos should be called into question… the jury is still out on that.
While this seems like a reach from concerned fans that Charli was more than willing to shut down, there is more to the story. Another photo of Charli and the "mystery man" (who fans are claiming to be Alex Novian) then surfaced online. His arm is around Charli in this photo, looking a bit too comfortable to many on social media. Fans were quick to notice that Landon unpinned his TikToks with Charli off of his profile. In the meantime, Charli's fragrance brand, Born Dreamer, canceled a live stream with Charli.
Based on this information, it seems obvious that there is something going on between the couple, whether that be a breakup or not. That is until Landon shared a photo of himself wearing a Social Tourist hoodie on his Instagram story. Would he really be posting photos in Charli's clothing line if they had broken up? We will have to wait and find out.