The strange reason Jenna Ortega is trending on Twitter
Jenna Ortega has certainly been popular online recently, due to the release of the Netflix series 'Wednesday', which has become a smash hit. The show became the most-watched series on the streaming platform a week after its release. A show this popular is bound to be surrounded by social media attention, which is exactly the case here.
While many fans are simply raving about the plot of the show and getting ready for next season, some are taking it in a different direction. Why is Jenna Ortega trending on Twitter on a random Monday afternoon? Probably not the reasons you might think.
With her extreme popularity, the 20-year-old actress has become the newest Twitter meme. Some memes tend to poke fun at a subject, or even be a bit rude in nature, but this one is actually quite complimentary of Jenna.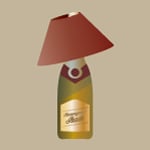 Want your voice heard? Join the Champagne And Shade team!
Write for us!
The idea of this internet trend is to use Jenna's popularity to promote another topic that the author of the joke likes. The format is as follows: "Wednesday's Jenna Ortega says that her favorite…" Twitter users are then filling in the blanks with various topics that they love and want to talk about. Here are a few examples for reference:
Just to make this abundantly clear: Jenna Ortega has not actually said any of these things.
The origin of this meme comes from an interview with the cast of Wednesday posted by Netflix. During the interview with co-stars Emma Myers and Hunter Doohan, Ortega picks the question "What song is on your do-not-play list?" She quickly references the song Dance Monkey by Tones and I, claiming "if anybody ever played that in my house, they're instantly being kicked out".
When this silly quote was reported on Twitter, fans ran with the format, leading to the creation of this trending meme. If one thing is clear, people really value Jenna Ortega's opinion on a large variety of topics.